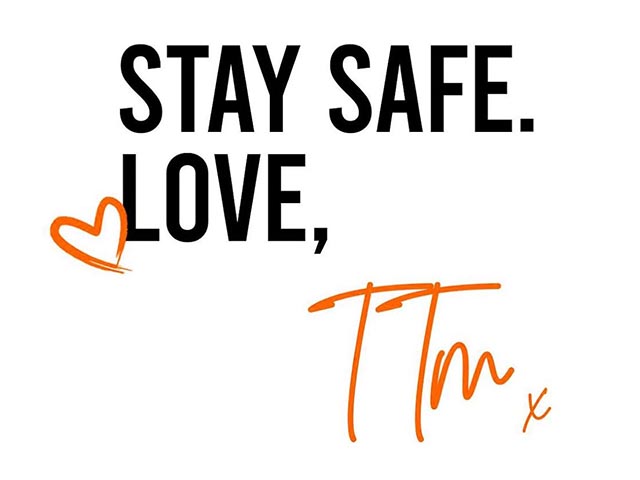 In light of current events, we are taking all the necessary precautions and following the government's advice to keep our staff, models and clients safe, this is our number one priority.
All staff will now be working mobile. Phones and emails will continue to be answered.
If you have any queries or just fancy a chat, we are always on the other end of the phone.
During these testing times we need to stay aware and take care of ourselves, as well as support each other.
Take a look at TTM's Top Tips for wellbeing during Self-Isolation:
Stay connected- Download a video calling app such as Facetime, Zoom or Skype. We already have a video calling system in place so that we can see and chat with each other daily. As a close team it would be hard to have no contact.
Stay calm- Take half an hour out of your day to practise mindfulness. Meditate, do some yoga or Pilates and try to relax.
Take a break from the news and social media- As much as you may want to stay in touch with what is happening on the outside world, a lot of this is filled with negativity so it is good to clear your mind and try to remain positive.
Read for pleasure- Escape for a little while in a good book. Re-read one of your favourites or find something new and recommend to your friends.
Plan your day- Your normal routine will be disrupted and that can sometimes create stress so take a little time out to write down how you would like to spend your day. Make sure to put into your new routine the things that you really enjoy.
Here is what our team will be up to when we are not at our desks…
Lesley
I will be using my spare time to finish off the planning of the renovation of my home as all of the kids have now got their own places and I would like to make the most of this space. I will also be clearing my wardrobe out and getting my summer clothes ready for when things return to normal.
Kelly
I will be setting up my desk in front of a window so I can make the most of the wildlife and birdwatch. I'm a huge David Attenborough fan if you haven't guessed! I will also be enjoying quality time with my little dog, Suzie hopefully getting in a lot of walks so cabin fever doesn't set in.
Mickaela
As well as taking Red to the beach for lots of walks, I will be spring cleaning and painting my house, which I have been putting off for a while.
Maggie
I will be reading the books I never seem to get the time to sit down and enjoy and drinking copious amounts of tea… nothing is new there!
Emma
I will be continuing to keep my local Chinese busy, binging on Netflix and trying my hardest not to kill my partner, Andrew!
Ashleigh
I will be using all my energy to try and stay off the crisps for lent. I have been clean for a couple of weeks now after previously eating around 4, yes 4 packets a day. Wish me luck!
Stay safe and we will see you all very soon!
Love,
Team TTM x