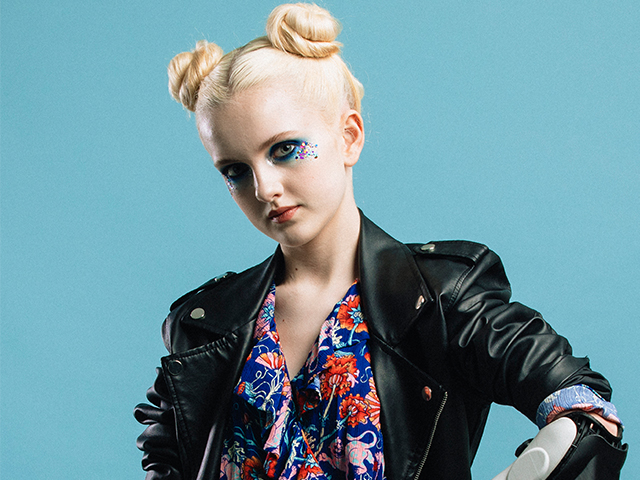 Fourteen year-old Tilly Lockey is an inspirational role model and real life example of the possibilities that the future holds. She travels around the world telling her story – how she lost her hands, being an ambassador for 3D printing company Open Bionics and using modelling and her body confidence to embrace her differences to inspire others to do the same. Tilly loves nothing more than being at home with her family and cats, cosied up in fluffy socks but she also loves the theatre,  singing and reading a really good book!
Tilly was born to be in front of the camera, and has been since she was 2 years old, modelling and speaking and trying to change the world of kids' prosthetics. With TTM Management she has worked with Haven Holidays, Getty Images and recently Christopher Owens but outside the agency she has also modelled at The Whitehouse for an All Inclusive fashion campaign! Tilly has worked with many photographers and uses a lot of her images on social media to promote 'embracing your differences'. Since doing this Tilly is now being approached by many fashion labels asking her to wear their brand on her Instagram page and will be working with high profile fashion labels in the New Year – so watch this space!
We asked Tilly what it meant to her to be asked to be part of our Beautiful North campaign:
It means so much to be asked to be part of 'The Beautiful North' campaign. I am so proud of where I come from and when I was really ill and needed support, the whole of the North East really did get behind me to help. There is a great sense of community in the North East and I always love to come home!
I was so glad to be asked to be part of the Beautiful North because it is so important for me to show that you don't have to be a 'perfect' looking person to be a model. We are all really beautiful in our own way and differences are beautiful because they make us who we are and people's stories really interest me. I think photographers can really capture that beauty and that is what makes me passionate about modelling.