TTM Management Model Dan Salmon has been part of the agency for years, modelling for brands such as Italian Jean company Fifty Four clothing, hair shoots for BHA Hair, Intu Fashion Shows, Software companies and even stock photography for Sol and more. We are very excited to announce that Dan is adding another string to his bow by delving into the TV world as a Screenwriter and Actor.
Dan and his best friend, Connor Lawson, decided to put their heads together during Lockdown and came up with the concept for "Pit Yackers," a TV show idea that is based off their own experiences and true stories of growing up in the North East.
We sat down with Dan in the agency last week to catch up with him and find out more about his exciting upcoming project.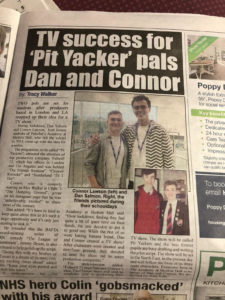 How did the idea for Pit Yackers come about?
Creating the show was almost a way to take our minds off lockdown and Covid, just to sit down and spend time with each other. We're both creative people so we thought we might as well. As we were writing it and realised it's actually quite good, we decided to send it to production companies and Fullwell 73 Productions picked it up.
Can you tell us what the show will be about?
The show is about three working class lads going on various misadventures, trying to navigate their way through the last of their teenage years. The show follows the lads as they have just started college and they're all on the same apprenticeship together. They're trying to work out who they are, and what it means to be a male growing up in the North East. I feel like the North East is often overlooked, especially places like Peterlee where it isn't as developed as Newcastle, and people are very stuck in their ways.
How closely is it based on your own experiences?
Two of the lads are based off me and my best mate (the co-creator of the show, Connor) and the other character is sort of like an amalgamation of a few people we've grown up with. All of the episodes are based on things we've been through, or stories we've been told. We think it's important to have a personal connection to it and be passionate about it.
What stage are you at in the writing/ production process?
Fulwell 73 Productions have a meeting with the broadcaster at the end of this month to see if they want to pick it up or not so it's all just a waiting game at the moment. If it does get picked up, that's when we will begin casting for the roles and recording the episodes. We have written our first episode and have gone back and forth for months to make it exactly how we want it. I didn't expect how much back and forth it would be, we had to do rewrite after rewrite. From the first draft to the second draft, we changed 28/30 pages completely, but without changing the storyline.
Are you going to be in the show?
I hope so! I haven't acted in a show before but modelling's acting really isn't it? Stock photography and similar modelling jobs that I've done, you need to act. I've obviously written the character and it's based on me, so it wouldn't really be acting. Connor, the co-writer is an actor, he's been on The Dumping Ground, he's been in Casualty as well.
How are you going to cast people for the roles? What sort of people are you looking for?
People from the North East. We've got a few people in mind for the roles. We want people who can promote the North East and shine a positive light on it. I went to Liverpool a few years ago, and everyone just associates you with Geordie Shore. It's nothing like that at all.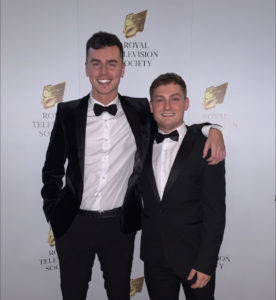 Above: Dan Salmon photographed with Co-creator, Connor Lawson. 
Can you tell us more about the process of you and Connor writing the show together? Who had what role?
Myself and Connor would sit down and discuss our ideas and then I'd write them down. The show is based on both our experiences and stories from growing up together in the North East so it's a collective effort.
If it does get picked up, will you continue to write the scripts?
Definitely. 100%. We had Jeremy Dyson, who wrote the 90's sitcom The League of Gentlemen, as our script editor and he gave us notes. We probably would want him involved again, but for the main structure of the show I would want it to stay between me and Connor.
We look forward to following along with Dan on his new endeavour as a Screenwriter and Actor and hope to see "Pit Yackers" on our screens very soon!
If you want to stay connected with Dan and follow along on his journey, you can follow: instagram.com/dansalmonn and for any modelling enquiries, email bookings@ttmmanagement.co.uk.
Best of luck Dan and Connor!